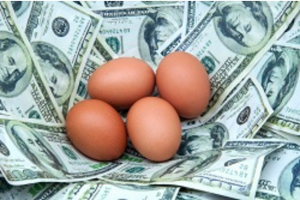 If you have a good job and good steady income and a qualifying retirement program, you may be able to buy a home. The rules differ between a Roth IRA, a 401(k) or a traditional IRA
With a 401(k) account, you can borrow up to half of the balance or $50K, whichever is less, for any reason at any age without penalty or taxes if your employer plan allows it. Your 401(k) may have specific rules for taking a loan with a requirement for paying interest. Good thing is the interest goes back into your account. So it boosts your 401(k) a bit. Talk with your company's human resources department to get the details.
Review the details about borrowing against your 401(k) closely. Check on the repayment requirements. You don't want to run into a situation where you have left the job and now have to repay the loan in 60 days or get charged taxes and penalties. Even if you are staying with your employer you don't want the loan to be designated as a withdrawal.
However, if you own a Roth IRA you can pull out that money at anytime without taxes or penalties because that money is after-tax income. You can't be taxed again on already taxed money. After you turn 59½ you can withdraw the earnings as long as the Roth IRA has been around for 5 years.
First-time buyers or anyone who hasn't owned a home for two years, can benefit from a special provision in Traditional IRAs that allows them to borrow up to $10K for a home purchase without the 10 percent early withdrawal penalty. However, the withdrawal will have to be submitted as income for the tax year on their Federal returns. The IRS website has more detailed information.
You may also withdraw funds to help out a relative in need which includes your children, grandchildren, your parents and your grandparents.
As always, check with your tax professional before making any decisions to see how this might affect your situation. Or you can try to weed your way through www.IRS.gov website.
Want some Insider Information on Fairfax VA homes for sale? Get a FREE Market Snapshot Report of Your Northern Virginia Home's Value, or  Search All Northern Virginia Homes For Sale. Put that data you need at the tips of your fingers!