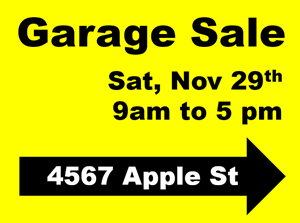 Need to make room in your home? Get rid of some unused items? Make some money in the process? It can be done with a well-planned yard or garage sale. But you will need to do some upfront planning first.
Start your research and planning early.
Map out your marketing and promotion.
Plan attractive displays of your items.
Have good prices.
Make checkout as simple as possible.
Garage sales can be held Friday, Saturday or Sunday with Saturdays being the high traffic day. An experienced garage-saler can do very well with a one day planned event. Serious buyers will be scoping out the "new" sales and usually don't do multi-day trips to the same sale.
To make the most of your marketing, advertised in FREE online sites like Craigslist and Backpage and put a small paid ad in the local newspaper or penny saver edition. To attract the most customers, plan to do a multi-family sale. These are big draws. Announce it in the ads and mention some of the bigger-ticket items that will be available.
Purchase pre-made signs at Walmart or hardware stores or make your own at Staples, UPS Stores or your local print shop. Make sure the lettering is large enough to be read as people drive by. What you need to have displayed on the sign: Yard or Garage Sale, the address of the sale, the date of the sale and times of the sale. If you can do some directional signage and add balloons you will get more attention.
For quick checkouts, consider signing up with the paying service Square for credit cards. They charge 2.75 percent per swipe and have an attachment so you can use your smartphone or an iPad. Be sure to sign up at least two weeks before your sale so you can get the reader attachment.
Safety Note: if you are not having an estate sale, keep your home locked up. We don't want strangers wandering through our homes casing the joint. Also, if you start accumulating some cash, take a portion inside and keep it in your locked up home. Don't discuss with strangers how much you have made on your sale. You never know who is a real customer and who just wants to know if they can come back and break in.
As part of the selling people will want to bicker and bargain. It's the way the game is played. A handy tip, negotiated less early on and more as your sale day comes to an end.
Looking for Fairfax homes for sale? I can send you a current list matched to your specified parameters. Need to be near a certain school, or near shopping and restaurants, or close to work? I can help!