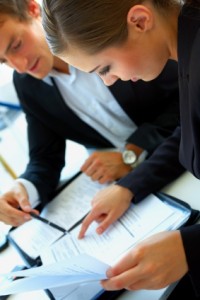 Everyone who have made or are about to make offers on Fairfax VA homes for sale would naturally like to know how best to negotiate with the seller and end up with the best possible deal. Though there are many techniques espoused by many realtors, you can't really look at negotiating in a vacuum.
Negotiating will always depend on the current real estate market. More than that, it's a two-way street, so it will be affected by the person you're negotiating with and if you are doing so from a strong or weak position.
Types of Sellers
Finding the degree of motivation of the Fairfax VA home seller is key to determining your negotiation strategy. For example, retirees selling their homes won't really care much if their properties sell within the next month or next year, so they're not really motivated.
So in looking for the best negotiating position, you'd do well to find a motivated seller, like someone facing foreclosure, or who is going through divorce or even has lost their job. These kinds of financial situations make them more motivated.
Types of Markets
The current market situation sets how much you can negotiate effectively, and which tactics you can use. Negotiating in a seller's market will limit how strong a position you have since you'll be in competition with other buyers for the same Fairfax VA home. However, there are still some techniques you can use to beat your competitors and get the house.
Multiple Offers
There's a technique you can use in any kind of market and can be effective in any situation. It's by making multiple offers on multiple Fairfax VA homes for sale at the same time and letting the sellers know upfront. If you're not too attached on any one home and you like a couple of homes, doing this will remove control from the sellers and put you in a strong negotiating position.
Letting the sellers know this and telling them that the first satisfactory response is the one you'll entertain puts the ball on their table. They will feel that they have to be the one to go after you instead to get you to buy their property. This changes the entire dynamic of the buyer-seller position and will put you in control.
~
Thierry is a Real Estate Agent at RE/MAX Premier, and Host of Talk Radio's, "Inside Real Estate"
Thierry & his team Guarantee a $25,000 minimum savings for Northern VA Homebuyers by applying his unique insider techniques & strategies that he discovered throughout 8 years of exclusive Radio Interviews & Insider Access to wealthy Real Estate Insiders, Investors & Top Industry experts.
Phone: (703) 222-6714.
Copyright 2010 Inside Real Estate, LLC. All Rights Reserved.