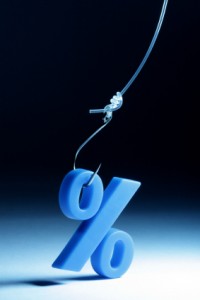 As the final topic in our review of the types of mortgages you can choose from and which one is best for your personal needs, what's the difference between fixed rate mortgages from interest only mortgages? More importantly, how would choosing an interest only mortgage ultimately benefit your purchase of a Fairfax VA home for sale?
Basically, a fixed rate mortgage is amortized over 30 years with the monthly payments going toward both the principal and interest of the loan. An interest only mortgage only has the monthly payments going towards the interest portion of the loan.
You may ask, why would I ever choose to only pay the interest and never pay off the Fairfax VA home? Well, some people will actually choose to do so. Those are the ones who are sure that they won't be living in the house for very long, maybe only four to seven years in that area. Interest only mortgages can help save those people a tremendous amount of money in the monthly payments of large mortgages.
A small interest only mortgage will save you maybe a couple hundred dollars a month, but a larger interest only loan can actually give you $500 to $700 in savings every month. So it's quite often that you'll be able to afford bigger Fairfax VA homes for salewith interest only loans.
However, it's important to realize that this shouldn't be used as a tool to get an otherwise unaffordable house with the fixed rate mortgage. The lowered monthly payments with interest only mortgages aren't meant for that. Instead, it should be used as a way to take care of other monthly expenses while still being able to afford a bigger home, letting you benefit from an interest only mortgage.
So you see, there are many types of loans that only require no or low down payments and these can be found in the local, county and state levels. Because they're not advertised, you need the guidance of a good buyer's agent to know where to find them in order to get the best deal for what's probably the biggest purchase of your life.
~
Thierry is a Real Estate Agent at RE/MAX Premier, and Host of Talk Radio's, "Inside Real Estate"
Thierry & his team Guarantee a $25,000 minimum savings for Northern VA Homebuyersby applying his unique insider techniques & strategies that he discovered throughout 8 years of exclusive Radio Interviews & Insider Access to wealthy Real Estate Insiders, Investors & Top Industry experts.
Phone: (703) 222-6714.
Copyright 2010 Inside Real Estate, LLC. All Rights Reserved.