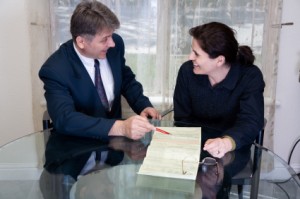 Here's a common issue that strong-headed buyers often go into when they don't want to listen to their agents. Though most buyers of Fairfax VA homes for sale will heed professional guidance and can think logically, some will still refuse advice and have to learn on their own.
Let's call this next item a Gift Horse. When buying a Fairfax VA home listed for, say, $200,000, should you offer less or is this price already a good deal? You'll need to compare the List Price with the Market Value first.
Don't assume that you have to automatically offer something like $180,000-$190,000 to get a good deal. In most markets, if the property listed for $200,000 already has a market value of $200,000, then most buyers will take it at that price. Someone will get it at that price, whether it's you or someone else. Most real estate agents are aware of this and try to let their sellers know this fact.
Now, if its market value is actually $185,000 and you negotiate it down to that price, you really didn't get a better deal. There's not much to remark about bringing the house down to what it should actually sell for, and your extra effort in negotiating it down to that is exactly just that, extra effort. You might think you've gained something, but in reality, you didn't win anything because the house was overpriced in the first place and there's no perceived benefit of price reduction.
This is a mistake typical rookie buyers make, and it happens often when they don't take the time to get a market value analysis on Fairfax VA homes for sale prior to making an offer.
Now what about if the home listed at $200,000 actually has a market value of $215,000 and you aim to bring that down below its list price? Well, you probably won't have much success bringing that down by a lot since the seller knows they've already priced well below the market price. They're aware they'll sell at that price and fairly quickly at that, whether it's you or someone else. The agents on both sides know that as well.
Be careful here, as you shouldn't look a gift horse in the mouth. Don't be greedy. If you purchase the house here at its list price, then you've saved $15,000 already from the incredible opportunity the seller presented. This big picture is something most people who've read books on negotiations don't see. Theory is different from the real world and this practical knowledge is what Insiders use every day to get the best real estate deals.
~
Thierry is a Real Estate Agent at RE/MAX Premier, and Host of Talk Radio's, "Inside Real Estate"
Thierry & his team Guarantee a $25,000 minimum savings for Northern VA Homebuyersby applying his unique insider techniques & strategies that he discovered throughout 8 years of exclusive Radio Interviews & Insider Access to wealthy Real Estate Insiders, Investors & Top Industry experts.
Phone: (703) 222-6714.
Copyright 2010 Inside Real Estate, LLC. All Rights Reserved.