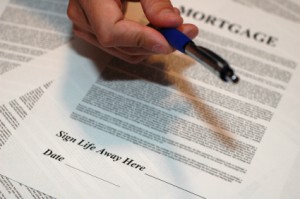 Fairfax VA – I recently met a Realtor who sells properties in a beach town.  She told me that short sales take between 9 and 12 months because the banks can make the process cumbersome.  She told me about how she'd short sold a property owned by two doctors. The sellers had to take a promissory note. The sale was for $900,000, so the loss must have been above average.
In this instance, her clients accepted the promissory note.  But what if you want to to short sale and not take a promissory note?  There's a way to do it, as I've outlined below.
First, it should be noted that negotiating short sales on more expensive homes is much different than your average short sale.
The most common loan types that will give you a complete release are Fannie Mae, Freddie Mac, FHA, and VA. Most of these will not provide a loan on a mortgage worth more than $147,000.  Of course, there are a few exceptions but this is in the general rule.
If the mortgage is more than $147,000, the loan is most likely owned by the bank you originally got  it from or it has been securitized.  It's harder to get a complete release on these types of loans, so you'll have to employ different strategies.
One thing you might try is telling them you are broke.  If you truly are broke, the loan's owner might let you off the hook.  But if you have assets, you'll need to use a different approach – such as hiring someone to do a "Loan Audit."
A loan audit involves that person going through your loan file.  They'll search for any violations of lending laws on the part of the lending company, such as not giving you the proper federally required mortgage disclosures or not being properly licensed  More of than not, these loan audits will often help you case.
Another strategy you might employ is hiring a lawyer who is a consumer advocate.  They will know how to use the law to negotiate from a position of power on your short sale.
If you do decide to hire a lawyer, I recommend you hire one on a contingency.  In other words, I pay you X when you get me the outcome I want.  Using a payment arrangement like this will protect you from those lawyers who drag out cases just to get more money.
Probably the most cost-effective thing you can do is to hire an experienced short sale agent.  It's in your best interest to find an agent who has negotiated  short sales where the lender asked for a promissory note. If they were able to negotiate away the promissory note, you can feel confident in your choice in a short sale agent.
The best short sale agents will usually know a good attorney and will have experience dealing with your bank.
Bottom line: The better your short sale agent is, the more likely you'll be able to short sale and walk away with a complete release from the debt.
Do you want to know how to complete a Fairfax short sale and never pay the bank another penny? I can help you do that. Call me at (703) 322-0600 for a free consultation. When you call, I will explain how the process works in detail and answer any questions you may have. Or, if you prefer, you can e-mail me at Thierry@ThierryRoche.com
Thinking about a loan modification? Our Fairfax Loan Modification Kit has the instructions you will need to get a loan modification approved with your lender.
Thanks for reading this,
Thierry is a Real Estate Agent at RE/MAX Premier, and Host of Talk Radio's, 'Inside Real Estate'
Phone: (703) 322-0600.
Thierry Roche specializes in loan modifications and short sales in Fairfax Virginia. Fairfax Loan Modification Help. Fairfax Short Sales. Fairfax Short Sale Realtor. Fairfax County Short Sale Realtor. Fairfax VA Short Sales. Fairfax Realtor.
Copyright 2011 Inside Real Estate, LLC.  All Rights Reserved.