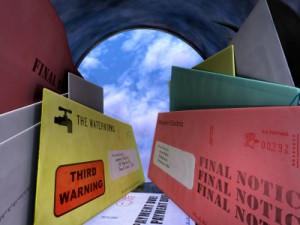 Fairfax VA – The majority of Fairfax short sales result in your owing nothing at the end.  Yet some stubborn lenders will refuse to release you.  Instead, they'll follow their company's strict policies to the letter.  If you find yourself in this kind of situation, here's what you can do:
Short sell your property and accept the deficiency. Then simply don't pay on it. Inertia and the bank's disorganization will prove advantageous for you. Here is an inside secret.
It is very hard for the lender to collect from you. Sure they can take you to court if they really wanted to but let's be honest: court cases cost everyone involved time and money.  The truth of the matter is, the American Legal System is designed to protect the borrower.
In a New York Times article, a full time debt collection firm revealed that it's extremely difficult to collect deficiencies.  Clark Terry, the chief executive of Utah Loan Servicing, admitted that the maximum amount that he'll ever pay for a defaulted home equity loans is $500.
Why?
"Anything over $15,000 to $20,000 is not collectible," he told the New York Times in an August 11, 2010 article titled "Debts Rise, and Go Unpaid, as Bust Erodes Home Equity"
The lenders (and debt buyers) know it will cost them $2,000 going to court to perfect their judgment. They also know that most people will end up declaring bankruptcy and not paying lenders a single center after such a court case. Thus, banks are rather reluctant to take you to court.
Simple inertia is another factor that's on the borrower's side. Lenders and debt buyers understand that if they collect on a large volume of people, then a certain percentage of people are bound to pay.  They don't have time to make collections on every single loan.  Instead, they cast out a broad net in hopes of catching a few fish.
First, they use one of the least costly types of collection techniques: the phone call.  With special software, these collectors can call between 15 to 20 people an hour.  Some borrowers will pay their deficiency just based on these phone calls.
These same principles work for all sorts of debts. This works for defaulted credit cards, defaulted second mortgages, and other collection situations. In the next post, I'll share with you a way you can get out of paying back this debt altogether.
Are you interested in selling your property as a short sale? Contact me for a free consultation. When you call, I will explain how the process works in detail and answer any questions you may have. Discover how other sellers successfully completed a short sale and request a free consultation.
Thinking about a  loan modification? Our Fairfax loan modification kit has the instructions you will need to get a loan modification approved with your lender.
Thanks for reading this,
Thierry is a Real Estate Agent at RE/MAX Premier, and Host of Talk Radio's, 'Inside Real Estate'.
Phone: (703) 322-0600.
Thierry Roche specializes in loan modifications and short sales in Fairfax Virginia. Fairfax Loan Modification Help. Fairfax Short Sales. Fairfax Short Sale Realtor. Fairfax County Short Sale Realtor. Fairfax VA Short Sales. Fairfax Realtor.
Copyright 2011 Inside Real Estate, LLC. All Rights Reserved