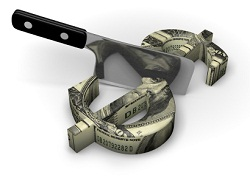 You are living in the home of your dreams. It's only two to three years old. Why refinance if the rate is the same or a bit higher than the one you have? Because in today's market you just might be able to eliminate your PMI or mortgage insurance. This will give you a large savings on your monthly payment.
Home values across the U.S. have risen in the past few years due to low inventory and a rebound in the real estate market. Your home value has probably risen enough to change your loan-to-value (LTV) ratio. It is this ratio that determines if you have to pay mortgage insurance or not. So you may refinance at a bit higher rate but have lower monthly payments due to the removal of the PMI requirement.
The average rule of thumb is that you don't need mortgage insurance on a loan at or less than 80 percent of the value. Some programs might even allow a higher LTV than 80 percent.
But if you are considering refinancing, give thought to the fees or closing costs associated with your new loan. Different lenders charge different rates and fees on their loan products and processing.
I can give you a recommendation of a trusted mortgage professional if you are seeking this option. And if you are interested in downsizing or moving-up to a new Fairfax home for sale then I can get you on my email enabled search and you can get custom home reports.