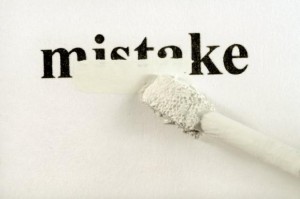 Fairfax VA – Over the years that I have worked with Fairfax VA home sellers, I have noticed some common mistakes that they make.  Here are some of them:
Common Short Sale Mistake #1: Not ordering a title search before negotiating the short sale.
A lot of people will do all the work of negotiating a short sale payoff and find out later that the property has liens or second mortgages.
There are several things that can attach to a property, including homeowner's association fees, judgments, tax liens, levies, etc.
Make certain that your Fairfax VA real estate agent orders a title search as soon as your Fairfax VA home is put up for sale.  That way you're aware of any attachments up front.
Common Short Sale Mistake #2: Unrealistic Pricing. Short sales need to be completed as soon as possible because of the threat of a possible foreclosure.
Buyers aren't likely to be interested in your Fairfax VA home if your home is priced higher than similar homes. Consequently, your home might not sell before a foreclosure is completed.
However, you should also avoid pricing your home too low.  A lender will likely reject a short sale if the offer is too low.
To ensure your home is not priced too high or low, find the fair market value for your Fairfax home and list the house at that price.   Price adjustments can be considered on a regular basis from there.
Common Short Sale Mistake #3: Not using photos of the inside and outside of the home in marketing. Most home buyers will search several different websites in search of their dream home.
A buyer will more likely be interested in your home if they see a picture of it online.  If there are no pictures, they might not become interested in it.  After all, they have plenty of homes for sale to choose from – many of which come with pictures.
Thinking about a short sale? I can help you short sale your property and never pay the bank another penny.
Thanks for reading this,
Thierry is a Real Estate Agent at RE/MAX Premier, and Host of Talk Radio's, 'Inside Real Estate'
Phone: (703) 322-0600.
Thierry is an advocate for Homeowners in Distress. Thierry has made it his personal mission to help as many people as possible avoid foreclosure and keep their home.
Thierry Roche specializes in loan modifications and short sales in Fairfax Virginia. Fairfax Loan Modification Help. Fairfax Short Sales. Fairfax Short Sale Realtor. Fairfax County Short Sale Realtor. Fairfax VA Short Sales. Fairfax Realtor.
Copyright 2011 Inside Real Estate, LLC. All Rights Reserved.
This is not intended as legal, technical, or tax advice. Please speak with a licensed professional before making any decision. Information is deemed reliable but not guaranteed as of the date of writing. The views expressed here are Roche's personal views and do not reflect the views of RE/MAX Premier. This information is provided as a courtesy to our viewers to help them make informed decisions.