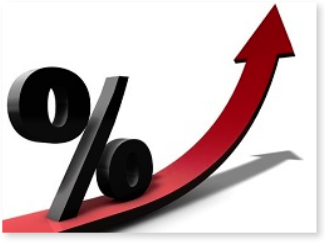 According to an article posted by Bankrate.com on December 12th, the 30-year fixed mortgage rate rose to 4.02 percent which is up 3 basis points since the same time last week. At that rate you will pay $478.57 a month in principal and interest for every $100,000 financed. That is $1.73 higher than last week. There is a rule of thumb that a ½ percent change in interest is approximately equal to 5 percent change in price.
As the popular 30-year fixed mortgage rate climbs it will cost you more to get into your dream home than it did just a week ago. To keep the payments low you will have to increase your down payment or buy a home with a lower price.
If you do not have a home under contract to buy, you need to do it now! Especially if you are using the 30-year fixed mortgage rate. If you are planning to buy an investment property, do it now before your investment cost increases.
Check out my example below to see how interest rates affect home prices.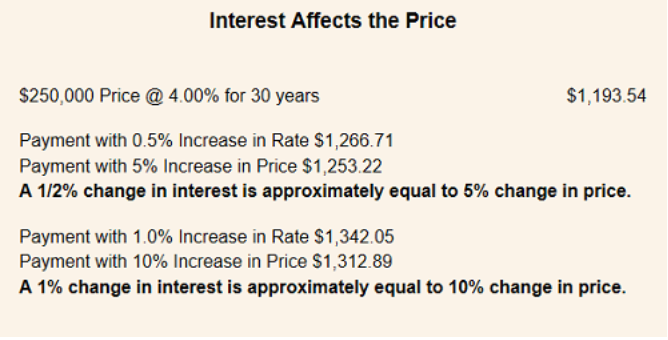 The Bankrate.com article also covered the 15-year fixed rate mortgage and the 5/1 adjustable rate mortgage. The 15-year rate is 3.16 percent which is actually down 2 basis points over the last week. The 5/1 ARM is at 3.31 percent which is down 9 basis points from a week ago. The 15-year might cost you a bit more in monthly payment but you will end up ahead through the life of the loan due to less total interest paid and quicker equity building. If you don't plan to stay in your home very long, the 5/1 ARM might be a good solution for you. Monthly payments would be around $439 per $100,000 over the initial 5 years but could climb higher after year 5. Talk with a mortgage professional to determine your long-term goals and see which mortgage product is best for you.
Want some Insider Information on Fairfax VA homes for sale? Get a FREE Market Snapshot Report of Your Northern Virginia Home's Value, or  Search All Northern Virginia Homes For Sale. Put that data you need at the tips of your fingers!