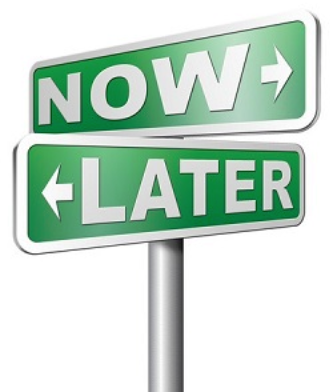 It is surprising the number of people who contact a RealtorⓇ or real estate office with intentions on buying a home but they can't qualify for a loan or don't have a down payment. Sometimes a RealtorⓇ will begin working with a buyer who has the down payment and good credit but decides to postpone the purchase for some time in the future.
It seems that once a homeowner is no longer a homeowner, the money they gained from their sale starts burning a hole in their pocket and they make an impulse buy like a boat or motorcycle or another luxury item that does not give them the positive effect that owning a home does.
If the ex-homeowner had put the money into a CD (certificate of deposit) it might not earn much back but it would be there for the down payment when the time is right. A three year CD of $8,750 would grow to $9,286 at 2 percent.
If the ex-homeowner can take a bit more risk, they could invest the money in the stock market. If you could find a 7 percent earning mutual fund for the same three year period, the $8,750 would then grow to $10,719. A little bit more than the CD.
But if the same ex-homeowner turned into a buyer and purchased a $250,000 home and we assumed a modest appreciation of 1 percent per year, the earned equity in their new home at the end of three years would be $29,597.
By gaining appreciation on the value of the new home instead of just the $8,750 down payment plus loan amortization of the new mortgage over the three years your equity in the home would be three times greater than the previously mentioned mutual fund. If we changed the appreciation percent to 2, gained equity would be over $37,000 in the three year period.
You may have good reason for not buying a home right now such as having moved to a new state on a temporary basis for a job opportunity. But if you sold a home, please safeguard your hard-earned down payment so it is there when you want to buy in the future.
Want some Insider Information on Fairfax VA homes for sale? Get a FREE Market Snapshot Report of Your Northern Virginia Home's Value, or get a FREE Listingbook Account so you can Search All Northern Virginia Homes For Sale just like a Realtor. Put that data you need at the tips of your fingers!