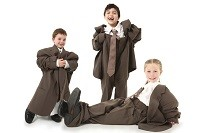 Is your house feeling a little large these days? Is your lifestyle changing from what the old routine? If you have spent most of your life raising kids and they have flown the coup to start their new lives then you know what I mean.
If your existing home just doesn't seem to fit anymore then take a look at some benefits to getting a smaller home:
It will be easier to maintain
Your utility bills will be lower
Property taxes should be lower
Home insurance will be lower
You can move to a more convenient location
Downsize from two levels to one
If it's a newer home it may be more energy efficient
A newer home will also have lower maintenance
Downsizing from a bigger home will free up some of the equity you have accrued in your larger home. This equity can act as a late life boost in your income and be used for retirement, buying a second home, education, traveling or as a secret fund for unexpected expenses. Check limits provided by the IRS but your profit should be mostly tax free.
If you choose to sell, there will be some expenses with the sale. There will also be things like a down payment if you are purchasing a new home. These items might lower your net proceeds of the sale but getting something is better than nothing.
Before you decide to jump into this major live changing event, I recommend you take some time to seek out guidance on alternative homes. Being a real estate professional, I can provide you a list of Fairfax homes for sale that meet the criteria for downsizing. I can also give you a market value on your existing home so you will have an estimate on your possible equity. You may even gain enough equity to invest it in your retirement "nest egg."