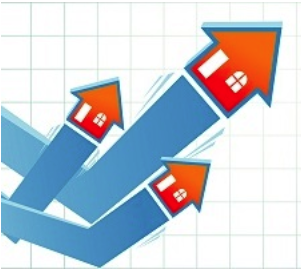 The decision to buy rental property can be an excellent one and the more information you have, the more likely the results will be favorable.
Affected by the economy, demand and supply, real estate is a long term investment. In most cases, it cannot be converted to cash very easily. Costs involved in buying and selling real estate are large so they are spread over many years to minimize affecting your rate of return.
Tip 1: Invest in an average or slightly below average price home to appeal to the largest rental market when renting it and later when you need to sell it. An average price would be relative to your market and those specific prices. Ask a RealtorⓇ for advice on good investment homes.
A lower-priced investment home rents for more relative to a higher-priced investment home. The relationship between rent as a percentage of the price is inverse. The rent as a percent of the price decreases when the price increases. As an example, a $200,000 home could rent for $1,750 per month or 0.88 percent and a $400,000 home will only rent for $2,250 per month or 0.68 percent.
Tip 2: Choose neighborhoods where the homes are mostly owner-occupied. When you need to sell the home it will appeal more to a prospective buyer who may pay a higher price to live in that neighborhood. Tenant-occupied neighborhood homes tend to re-sell to investors who usually pay lower prices and are not emotionally involved in the purchase of the home.
Tip 3: Buy an investment property with the idea of selling it in your mind. Be careful about paying bargain prices for homes with bad floor plans or less than average number of bathrooms. Obsolescence will be an issue when you try to sell. You can identify the problems and if there is a cost effective solution before you buy. Obsolete homes usually rent just fine but they may not sell as well.
Tip 4: If you are serious about a purchase, get a home inspection done before you buy with a contingency on the results of that inspection. This initial inspection can save you lots of money in future unknown expenses.
Tip 5: A home warranty may be a good consideration for your purchase. This "insurance policy" will help to limit your out of pocket expenses on the items it covers. Usually large ticket items and functionality coverage. Different warranty companies provide different coverage.
Minimize your risk on buying investment property by knowing what is required in the buying, renting and then selling of the home. As a homeowner, you will be able to relate to owning rental property because it is very close to the home you live in. If you are interested in buying a rental or investment home, contact me with your criteria and I can send you a list of suggested homes to view. My years of experience in my local market have allowed me to become very knowledgeable about homes, neighborhoods and turnover.
Want some Insider Information on Fairfax VA homes for sale? Get a FREE Market Snapshot Report of Your Northern Virginia Home's Value, or  Search All Northern Virginia Homes For Sale. Put that data you need at the tips of your fingers!