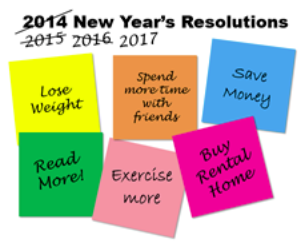 As we begin the new year everyone seems to have the same things on their resolution list. Lose weight, save money, exercise more…well maybe this is your year to invest in a rental home.
With a strengthening real estate market, rents are on their way up, home values are steady and mortgage rates for non-owner occupied properties are still low. Investing in a $300,000 rental home and putting down 20 percent can easily return $200-$300 a month of extra cash flow after you pay your expenses.
Lots of investors have lots of different strategies but one that remains true is to invest in below the market price homes in mostly owner-occupied neighborhoods. When you are ready to rent the home, it will appeal to the largest range of tenants and then buyers when you need to sell.
Buying a single family home offers you the opportunity to borrow a high loan-to-value mortgage at a fixed rate over a longer term on an appreciating asset with tax advantages and you have reasonable control.
This may be the year you get your resolutions done! First step is to learn all you can about rental properties is to sign up for one of our Free Real Estate Investment seminars or call for a free over the phone consultation.
Want some Insider Information on Fairfax VA homes for sale? Get a FREE Market Snapshot Report of Your Northern Virginia Home's Value, or  Search All Northern Virginia Homes For Sale. Put that data you need at the tips of your fingers!