Determining the values of Fairfax VA homes for sale is where you use the CMA and TMO tools with the guidance of a good buyer's agent. Because home values are highly affected by several factors, you need to look at the bigger picture before grinding down to the smaller parts. Factors like amenities, neighborhood, features, and the current job market all play a role in real estate values.
Job market changes are even more important since they make real estate appraisals only good for six months. This is also the reason lenders only use appraisals no older than six months, as this is how often values change in the real estate market.
However, market anomalies often happen and affect Fairfax real estate values. How do you know if a home in one neighborhood is comparably undervalued to those in another neighborhood? There are a lot of factors that are easy to spot if you're aware of what to look for.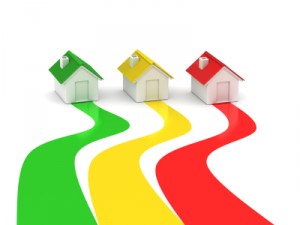 Market anomalies can appear as a result of temporary price drops in a neighborhood with distressed sales or foreclosures. They can also be caused by differences in the future development potential and the actual future development approval.
People may highly consider buying in an area with a lot of future developments like new business parks, shopping centers or subdivisions because they're convinced that the area is being heavily built up. In reality, this is a really bad situation for real estate values. They can overbuild. This would create a high inventory volume on the market: a buyer's market with too many builders and too many surplus homes pushing values down.
Another factor to be aware of is the political issue of smart growth or down zoning that has become prevalent in many jurisdictions across the country during these last ten years. Smart growth means the county supervisors or the jurisdictional authority for a specific town, city or neighborhood designate where builders can put down homes.
The idea is to build on existing infrastructure, roads, utilities, access to schools and services, etc, instead of having to start everything from scratch by buying out a farm for example. This will keep down congestion because people's homes, workplaces, schools, shopping, recreation, etc, are all in one place, reducing driving and commuting time and freeing major highways of additional traffic. There's a lot of debate on it since it prevents people from developing their own land.
The reality is that smart growth constricts or decreases the amount of inventory available that can either be listed for sale, built upon, or rezoned. This artificial suppression of inventory directly affects housing prices in particular areas and neighborhoods.
What this means is that areas that don't allow extra building makes its real estate prices climb up, if the same amount of buyers exist with fewer sellers. Down zoned areas will also have increased prices because of the limited inventory compared to adjacent unaffected areas.
An excellent opportunity to buy Fairfax VA homes for sale will be in heavily foreclosed neighborhoods, simply because that neighborhood will have to sell at lower prices until the extra inventory levels with those of other areas. This allows you to be in a home that will surely appreciate in value when the neighborhood springs back to normal market values.
~
Thierry is a Real Estate Agent at RE/MAX Premier, and Host of Talk Radio's, "Inside Real Estate"
Thierry & his team Guarantee a $25,000 minimum savings for Northern VA Homebuyers by applying his unique insider techniques & strategies that he discovered throughout 8 years of exclusive Radio Interviews & Insider Access to wealthy Real Estate Insiders, Investors & Top Industry experts.
Phone: (703) 222-6714.
Copyright 2010 Inside Real Estate, LLC. All Rights Reserved.