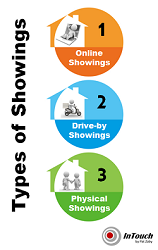 A frequent call I get from my homeowners is asking about showing activity on their home. Homeowners feel that since they haven't had anyone through the home that it isn't being shown. This makes homeowners feel there is no activity on their listing.
Buyers today are more tech savvy than buyers of a decade ago. With the advancement in real estate websites there is more information than ever available to buyers about your home on the internet. For example, with Trulia you can get a report about the neighborhood, with Zillow you can get a Zestimate® or valuation of the home within seconds. Most sites also offer some form of mapping, satellite images, points of interest and even nearby shopping and entertainment venues.
By today's standards there are three types of showings of which your home needs to be prepared.
Online Showing: This type of showing is where a potential buyer finds your home for sale in various online marketing sites and views the pictures/virtual tour of the home first. This increases the importance of having good pictures taken and a virtual tour defined.
Drive-by Showing: This type of showing is when a potential buyer does a "drive-by" of your home checking out the neighborhood and curb appeal. Although they are not in the door, this type of showing can be just as important as a physical showing.
Physical Showing: This last type is what we are more accustomed to when a potential buyer and their agent take a walk-through of the home. I put this one third for a reason. Most buyers only get to this point once the home has past the first two showings and their criteria.
As a current or potential Fairfax homes for sale homeowner, I want you to be aware of the three different types of showings mentioned above. For online showings we can track those through the viewing stats of the real estate site where the home is posted if available. Drive-by showings cannot be tracked unless mentioned by the buyer directly. It is my job, as your listing agent, to have the knowledge and ability to help my sellers take advantage of all three types of showings.