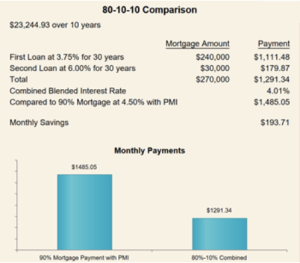 The Great Recession included a banking crisis and in turn mortgage products were streamlined and others were taken off the table. With the return of the economy, previously unavailable mortgage products are now being offered.  One of those products is called the "Piggyback" or the 80-10-10 mortgage and it can save you a lot of money.
The purpose of the 80-10-10 mortgage is to help borrowers avoid the monthly cost of mortgage insurance and allow them to get a 90 percent loan. It works by letting the borrower get an 80 percent first mortgage and a 10 percent second mortgage with a 10 percent down payment. This removes the requirement for private mortgage insurance by increasing the borrower's down payment.
As an example, you can put down $30,000 on a $300,000 home and get an 80 percent first mortgage without mortgage insurance required. You then get a second mortgage through the same lender or another of your choice.
In my graphic above, getting an 80-10-10 mortgage would save you $193.71 a month which can add up to a bunch of money over a ten-year period. Be aware that the interest rate on your second mortgage will be higher than on your first mortgage but you can pay it off sooner since it's a smaller amount.
As a professional RealtorⓇ, I can help you make good choices. If you have the right tools and information, your decision will be easier. Using an 80-10-10 calculator, you can see what savings you will gain based on your situation.
Want some Insider Information on Fairfax VA homes for sale? Get a FREE Market Snapshot Report of Your Northern Virginia Home's Value, or  Search All Northern Virginia Homes For Sale. Put that data you need at the tips of your fingers!