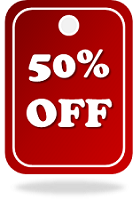 Bargain shopping. We are all guilty of doing bargain shopping and looking for the best deal. Sometimes even waiting for that 50 percent off sale in our favorite store. Renters should consider being bargain shoppers also. With today's low mortgage rates, you can buy a $200,000 home with 3.5 percent down on a 4.5 percent FHA 30 year mortgage.
This makes your monthly home payment about $1,508. But, if we add in the equity build-up from normal amortization, your home appreciation at approximately 2 percent annually using this example, add in tax savings and maintenance on the home, your net cost is $772 per month – about half of the mortgage payment.
If you were paying $1,750 per month rent, your cost would be about $978 more to rent than to own. In your first year as a homeowner, you would accumulate over $11,000. This is higher than the $7,000 required down payment.
Buying and owning your home is probably the largest investment you are going to make. With an initial investment of $7,000, you would gain $58,837 in equity assuming a 2 percent appreciation with normal amortization.
Check out the example graphic I have provided you below for some details on renting vs owning a home. I have sellers with Fairfax, VA homes for sale ready for you to make an offer. Contact me today for the latest active listings.