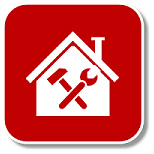 The extra costly weekend call to the repairman to fix an item that really wasn't "broken"; it has probably happened to most of us owners of northern Virginia real estate. The feelings of relief that it wasn't a serious problem are overshadowed by the frustration that we have to pay for the service call.
Next time, before you call the repairman, check out some of these easy fixes to common household problems:
Disposer not working – Check the reset button, which is usually on the bottom of the device. If the disposer is making a humming sound, check to see if the blades are stuck. Try using a wooden broom handle to gently loosen the blades while the device is turned off.
Air conditioner not working – Check your electric breaker box. If the breaker for your air conditioner has been thrown, try flipping the breaker all the way off, and then on again.
Electrical outlets not working – Many times electrical plugs in bathrooms or outside are connected to a ground fault interrupter (GFI). The GFI will be a wall outlet and it may be located in the garage. Locate the outlet and reset the button that may have tripped.
Clogged drain – An easy way to remedy a slow or clogged drain is to use the water pressure from a garden hose. This is a two-person job; you at the drain holding the hose, and a helper turning on and off the water. A full-blast flow from the hose may clean out any blockage.
Realtors® know reputable, reasonable and reliable service contractors. Whether you are preparing a home to put on the northern Virginia real estate market or arranging repairs required by a sale, we're here to share our contacts with you to help make home ownership better.
If you are thinking of selling, learn how the nation's Top Realtors sell their personal family homes for more money than their neighbors. Get my Free CD, or Free Report of the 10 Best 'Insider' Home Selling Strategies that I extracted from over 8 years on my Real Estate Radio Show interviewing the Industry's Top Experts.
If you are thinking of buying, find out how the Industry 'Insiders' Save $25,000 – $50,000 on their personal home purchases, and how you can too. Get my Free CD or Free Report Top 10 Insider Home Buying Secrets of the Wealthy. We use these same proven strategies every day.