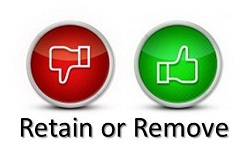 Spring is in the air! Well for some parts of the country. Remember when mom used to designate a weekend and say it was Spring Cleaning Weekend? It is once again time to start clearing out the winter fog and clutter. Keeping things in your home means you have to take care of them, the more clutter the more items to clean, store and move if you decide to sell your home. Homeowners with Fairfax homes for sale, I am talking to you!
Make the spring of 2014 your time of cleaning, clearing and renewal. Get back some of your storage space by cleaning out your closets, drawers, cabinets and storage areas.
Think about each item in this way.
When did you last use it?
Are you going to use it again?
Are you sentimentally attached to it and want to keep it?
A good rule of thumb is if you haven't touched something in a year, it probably needs to go. Speaking of go, here are four different options for getting rid of stuff.
Garage Sale or Craigslist.
Donate it.
Give it to someone.
Trash it.
But where to begin. How about your personal closet? Start with clothes that are two years old and older. If you haven't worn it, donate it. Chances are the style is out of date and someone else more needy could use it. If you don't want to get rid of things right away, put them in a storage area or another closet for a set amount of time and then revisit them to make a decision. But make sure you keep yourself to the final disposition.
If you have old financial records, tax records and/or receipts, think about scanning them and storing them on Dropbox ($9.99/100 GB/month) or Google Drive ($4.99/100 GB/month). There are several online options available that will put the records in a secure cloud and out of your home.