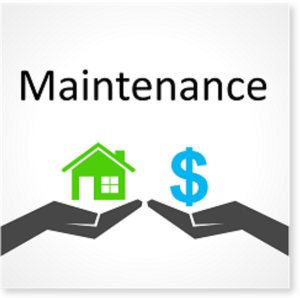 The American Dream includes the chance to own your own home. It is the place where you can raise a family, be with friends, feel safe and enjoy your life. It is easy to realize all the benefits but just as real is the regular maintenance that occurs when owning a home.
I'm not trying to scare you out of owning a home just giving caution about what is expected. Two of your largest expenses in owning a home is paying property taxes and homeowners insurance. However, these items are often handled through your escrow account and are not a shock when you need to pay for them once a year.
There are also occasional maintenance costs for repairing things that wear out like faucets, toilets, windows, doors etc. Larges repair bills can arise such as replacing your water heater or HVAC unit. And then there is some costs associated with occasional painting or replacing floor coverings.
Your financial expert may suggest that you put aside 1 to 4 percent of your home's value each year and slate it for repairs and maintenance. Now $2,000 to $8,000 a year may sound like a lot but what if you need to replace the HVAC unit. It can easily cost upwards of $6,000 or more and a lot of homes these days have two units. Hopefully, they won't both go out at the same time.
Now you can purchase a home warranty to offset the larger unexpected costs. Paying an annual premium of $400-$500 is a lot less that thousands of dollars. Covered items and premiums will vary from company to company so shop a few. Also, home warranties do not cover existing conditions so check out their rules on what is consider "pre-existing."
If you don't save for these expected maintenance expenses you may have to defer to charging a credit card with high interest or to getting a home improvement loan. In the long run, you will pay more for the expenses than the original bill. Since you expect your home to appreciate in value, don't defer to much maintenance or you will limit the value of your home if or when you go to sell it.
A widening trend in real estate transactions these days is getting a home inspection done before buying a home especially if the home is a bit older than say 3 years. These inspections will point out maintenance issues present and will often be a point of negotiation on who will pay for the repair/fix. So protect your budget and home value by staying current on expected repairs and maintenance so you don't lose money when you sell.
Want some Insider Information on Fairfax VA homes for sale? Get a FREE Market Snapshot Report of Your Northern Virginia Home's Value, or  Search All Northern Virginia Homes For Sale. Put that data you need at the tips of your fingers!