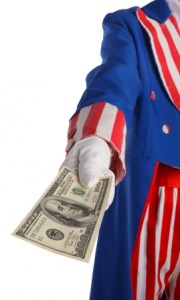 Anytime it comes to getting every dime you are entitled to from the IRS, I like to spread the word to everyone in the Fairfax VA real estate market, especially when it comes down to tactics that are completely legal, yet not very well known.
I stumbled upon this well kep secret myself while interviewing an accountant for a well known and large DC area real estate investor on my Real Estate radio show. This particular interview was all about discovering hidden write-offs and legal accounting and bookkeeping strategies for investors. During the interview, this particular accountant dropped an IRS refund bomb that I never even knew existed. In fact, a majority of tax preparers (70%) don't even know this special cash reimbursement method legally exists. I guess this is one of those reasons why these top dollar accountants get the big bucks – they've earned it!
Here is the story, when the average homebuyer purchases a Fairfax VA homes for sale, they have to provide their down payment, which is usually between 5% to 20%. In addition they need to provide another 3% to 5% for closing costs. Well this really starts to add up for most homebuyers, and in the case of our top dollar investor, he wants to purchase as many Fairfax VA homes as possible. Hence, he tries to reduce his out of pocket costs. So a lot of Fairfax VA homebuyers will ask the seller to help them with covering their closing costs. In many cases this is negotiated so the seller pays an example amount of 2%- 3% towards the purchaser's closing costs at settlement. In an average transaction of a $350,000 home, this equals about $7000 – $10,000.
Everyone leaves happy:  the Fairfax VA home is sold and the buyer has no additional tax write off, because they did not pay their own closing costs. But in the world of educated Real estate insiders and high paid accountants, our buyer can legally take that write off on losing costs he DID NOT pay and get an IRS refund of more than $2000!
Why? Well if the Fairfax VA homebuyer had originally paid for their own closing expenses, and if those costs includedmortgage discount points, which is the biggest part of closing costs, they would get to write off all the Fairfax VA home home loan 'points' that were paid at settlement, because the IRS considers  those mortgage loan discount points'  a mortgage interest expense.
But they didn't pay the points, the Fairfax VA home seller did. But in a little known IRS ruling, (one of those rare ones that actually benefits the consumer) the IRS declared that even if the seller is paying the mortgage discount points on behalf of a home buyer, then the home buyer can take the write off. The IRS figured that if the points were not paid by the seller on behalf of the buyer, then the buyer would have been able to get a price reduction of an amount equal to the points that would have been paid by the seller.  Thus, the IRS feels that the buyer actually (in a roundabout way) paid the mortgage loan points by not getting a price reduction instead. So the buyer can take the write off, and in our example of the $7000-$10,000 of points paid by the seller, the buyer is allowed to write these off on their tax return and get $2000-$3000 cash back for the IRS (the amount varies depending on your tax bracket). I have to give credit to the IRS: they've demonstrated sound reasoning – at least in this case.  I also have to tell you that since I am not an accountant, I can't give you direct tax advice so you need to discuss this IRS refund strategy with your own tax advisor. And if they don't know about it, which won't be unusual, then tell them to research it, or you should find another tax advisor!
I guess it's true, what you don't know really can hurt you!
We've been able to save Fairfax homebuyers thousands of dollars on their home purchase thanks to all of the Insider Strategies we've learned on my Real Estate Radio show. Check out my free Live online webinar, at www.HomebuyerInsideSecrets.com, to learn more about how we can help you.  That www.HomebuyerInsideSecrets.com.
You can also get all of these insider techniques applied to your personal Fairfax VA home purchase with our Free 'Insiders Access Homebuyer Savings Program' and get a minimum guaranteed savings of $25,000 or more. And the best part is we guarantee you save at least $25,000 or more with my exclusive strategies, plus the service is no cost to you. Go to http://www.novahomesavings.com/and find out why even other realtors and mortgage lenders actually use me as their buyer broker on their own personal home buying transactions, instead of relying on themselves, that's http://www.novahomesavings.com/.
Thanks for reading this,
Thierry is a Real Estate Agent at RE/MAX Premier, and Host of Talk Radio's, "Inside Fairfax Real Estate"
Thierry & his team Guarantee a $25,000 minimum savings for Northern VA Homebuyers by applying his unique insider techniques & strategies that he discovered throughout 8 years of exclusive Radio Interviews & Insider Access to wealthy Real Estate Insiders, Investors & Top Industry experts.
Phone: (703) 222-6714.
Copyright 2010 Inside Real Estate, LLC. All Rights Reserved