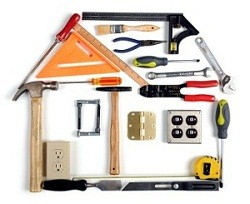 Homeowners have many reasons for buying and owning a home. They want a place to raise their family, a place to call their own and a place you can share with family and friends. Not to mention, it is a great investment, gives you security and peace of mind, some pride in what you own and lots of enjoyment.
Along with these benefits, you also have the responsibility to take care of the home and ensure you will be able to live in it for a while. Your concerns as a homeowner can be divided into the following three areas.
Maintenance. Every homeowner deals with this. Whether it be routine annual touch ups or a major project, it is up to you to keep your home in tiptop shape. The more you take care of your home the higher the rate of return in your investment becomes.
Minimizing expenses. By keeping an eye on expenses you can reduce the cost of living in your home. You need to be able to recognize when something can be repaired or when it needs to be replaced. Keep a list of reputable service providers who are also reasonable in cost and expectation. When in doubt, refer to one of them for a second opinion.
Managing debt. This is the financial side of homeownership. Taking advantage of lower interest rates by refinancing or getting a shorter term on your mortgage. Make principle contributions. Re-evaluate your home insurance policy each year and even look into a home warranty program.
I not only want to help you buy and sell but want to be useful to you during all the years in between. If you find that any of these three items become too much for if it is time to downsize. Let me know and we can look into getting you into a new Fairfax home for sale. I hope you find my posts helpful and full of good information.