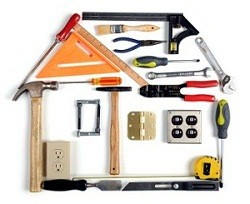 Burrr! Winter is here in a major way for most of the country. Are you ready? You or your neighbor may be wishing you paid more attention to those winter maintenance items before now. Don't count yourself out if you live in a warm climate either, check these items at least once a year.
Weather stripping around windows and doors should be checked for air leaks and wear and tear.
Check window and door caulking for cracks, worn areas and missing pieces.
Get your HVAC system inspected and serviced by a professional seasonally or annually.
Test your smoke and carbon monoxide detectors monthly.
Insulate your water heater ductwork and supply lines.
Clean fireplace chimneys regularly and get your fireplaces inspected for cracks in the mortar and the damper for proper function.
Check your gutters and remove any leaves and debris to stop rainwater back-up.
Trim any tree branches touching or hanging over your roof.
Being prepared for the winter season can protect your largest investment and make you more comfortable in your home. Periodic or regular maintenance can extend the life of your home with the side effect of saving you money and avoiding or delaying high cost replacement items. Home owners with Fairfax homes for sale are keeping up with their winter maintenance, are you?
Please me if you need a service provider recommendation.