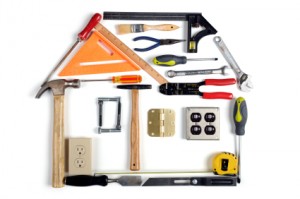 As a Fairfax VA home owner, you can make your already amazing Fairfax VA home even better with just a few inexpensive home improvements.
Remodeling Magazine's recent report on cost vs. value details the most common home improvements that can really pay off in the long run:
1. Entry Door Replacement (Steel)
Cost: $1,218
Resale value: $1,243
Project Tasks:
Remove an existing 3-foot-by-6-foot-8-inch entry door and jambs and replace it with a new 20-gauge steel unit, including a clear dual-pane half-glass panel, jambs, and an aluminum threshold with a composite stop.
The door is factory finished with the same color on both sides.  Exterior brick-mold and 2.5-inch interior colonial or ranch casings in poplar or an equal choice are prefinished to match the door color.
Replace the existing lock set with a new bored lock with a brass or antique brass finish.
A new entry door can make a big splash, but only if it complements the style of the house. "The biggest mistake people make is to choose a door that doesn't match the neighborhood or home," says Donnie Worley, broker at RE/MAX Real Estate Service in Sanford, N.C. "You won't recoup the money at resale, and it might look funny."
Finally, thoroughly inspect the door before buying and installing it. "Steel doors can dent easily, and you can't fix dents," says Taylor Joe Goldsmith,vice president of marketing and sales at Joe Goldsmith Construction Inc. in Lakeland, Fla.
Replacement projects usually have better resale value than other types of remodeling projects, partly because they're among the least expensive.
2. Garage Door Replacement
Cost: $1,291
Resale value: $1,083

Project Tasks:
Remove and dispose of the existing 16-by-7-foot garage door and tracks.
Install a new 4-section garage door on new galvanized steel tracks
Reuse the existing motorized opener.
The new door is uninsulated, single-layer, embossed steel with two coats of baked-on paint, galvanized steel hinges, and nylon rollers.
Home owners should be careful when choosing a garage door because it's easy to buy a more expensive product than what's necessary. In many cases, a basic door will do the job, McCluskey says.
Sellers should also consider how potential buyers might use the garage. A selling point for garage tinkerers might be windows or upgraded insulation.
Windows allow in natural light and can make an enormous difference in the usability of your garage, said McCluskey, adding that, "If it's dark inside, you can't do anything without opening the door."
Another potential selling point is a belt-driven garage door opener, which costs about $100 more than a chain-driven model.
This project is a new addition for the 2010-11 report, in recognition that curb appeal continues to play a strong role in a home's resale value.
3. Siding Replacement (Fiber Cement)
Cost: $13,382
Resale value: $10,707
Project Tasks:
Replace 1,250 square feet of existing siding with new fiber-cement siding, factory primed and factory painted.
Include all 4/4 (1-inch) and 5/4 (1.25-inch) trim using either fiber-cement boards or cellular PVC.
"Siding materials can vary widely, so home owners should be sure they're getting actual cement siding, rather than pressboard or other composite materials," says McCluskey.
Home owners should also ask siding contractors how much of an overlap, called the "lap," there will be on each board.
Finally, home owners should consider prepainted siding, which they can then tout to potential buyers. "That can save home owners money," says McCluskey.
Since it was added to the survey in 2005, fiber-cement siding replacement has ranked first among projects costing $5,000 or more.
4. Kitchen Remodel  (Minor)
Cost: $21,695
Resale value: $15,790
Project Tasks:
In a functional but dated 200-square-foot kitchen with 30 linear feet of cabinetry and countertops, leave cabinet boxes in place but replace the fronts with new raised-panel wood doors and drawers, including new hardware.
Replace the wall oven and cooktop with new energy-efficient models.
Replace laminate countertops; install a mid-priced sink and faucet.
Repaint the trim, add wall covering, and remove and replace resilient flooring.
To save a good chunk of money on a kitchen remodel, keep your existing electrical wiring and plumbing in place, Bosworth says.
Another idea: Considering painting your cabinets instead of buying new ones, advises Jude Herr, broker-owner of Boulder Area Realty in Boulder, Colo.
And while many home owners opt for laminate flooring that resembles wood, Herr says ceramic tile is a smarter option. "With a laminate, you may get a negative reaction," she says.
Finally, to save money, do some of the work yourself. "Do the painting yourself before cabinets are installed, patching nail holes or scratch marks later," says Bosworth
The minor kitchen remodel may carry a high price tag, but it's a relatively inexpensive face-lift to what many buyers consider the most important room in the home.
5. Deck Addition (Wood)
Cost: $10,973
Resale value: $7,986
Project Tasks:
Add a 16-by-20-foot deck using pressure-treated joists supported by 4-by-4-foot posts anchored to concrete piers.
Install pressure-treated deck boards in a simple linear pattern.
Include a built-in bench and planter of the same decking material. Include stairs, assuming three steps to grade.
Provide a complete railing system using pressure-treated wood posts, railings, and balusters.
A new wood deck can look stunning, but if not done correctly it could turn into a drawback to buyers.
Bosworth also recommends that sellers who need to save money choose a contractor who'll let them do some of the work. "Have the footings poured by a professional and maybe the frame put together by one, too," he says. "But anybody who knows how to use a screw gun can put in the floorboards and railings."
Adding a natural stain can be a final selling point. "Colored stains like darker browns and reds wear very unevenly. Natural stains wear more evenly," said Bosworth
Before any work begins on the new deck, make sure that permits are in place.
This project is considered essential rather than discretionary in many markets, particularly in neighborhoods where every home has an outdoor living space.
Investing in a Fairfax VA Home for Sale
You can find out more about how we are currently using Insider Strategies learned from my Real Estate Radio show to save homebuyers tens thousands of dollars on their home purchase and financing everyday right here in Northern Virginia, just check out my free Live online webinar, at  http://thierryroche.inside-real-estate.com/real-estate-radio-show-host-thierry-roche, that's http://thierryroche.inside-real-estate.com/real-estate-radio-show-host-thierry-roche.
You can also get all of these insider techniques applied to your personal home purchase with our Free 'Insiders Access Homebuyer Savings Program' and get a minimum guaranteed savings of $25,000 or more.
And the best part is we guarantee you save at least $25,000 or more with my exclusive strategies, plus the service is no cost to you. Go to www.NovaHomeSavings.comand find out why even other Realtors and mortgage lenders actually use me as their buyer broker on their own personal home buying transactions, instead of relying on themselves, that's www.NovaHomeSavings.com.
Thanks for reading this,
Thierry
Thierry is a Real Estate Agent at RE/MAX Premier, and Host of Talk Radio's, "Inside Real Estate"
Thierry & his team Guarantee a $25,000 minimum savings for Northern VA Homebuyers by applying his unique insider techniques & strategies that he discovered throughout 8 years of exclusive Radio Interviews & Insider Access to wealthy Real Estate Insiders, Investors & Top Industry experts.
Phone: (703) 222-6714.
Copyright 2011 Inside Real Estate, LLC. All Rights Reserved.