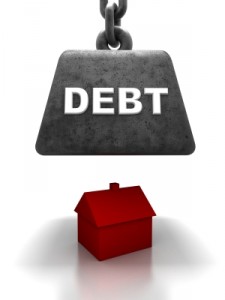 Fairfax VA -It can be overwhelming to face an upside down mortgage.  You might just be tempted to walk away, mail your keys to the lender and move out.
But before you give up, I have some important information to give you: You should stay in your Fairfax VA house for as long as possible.
In fact, the average length of time you can live for free is 461 days.
That's because a lot of lenders can take up to 12 months of more to file foreclosure.  After that, the entire process can take an additional 6 to 12 months, and sometimes longer!
Bottom line: Don't move out as soon as you get behind. Stay in the house and save the money you would be spending on rent.
Once the lender does foreclose, you will have to worry about them pursuing you for the money they lost. Do you want to avoid all of the negative side effects of a foreclosure? Then consider a Fairfax VA short sale.
First off, on 80-90% of all short sales, you won't have to pay any money back.
Second, you will be eligible to buy another house in 2-3 years.  If you took the foreclosure route, you'd have to wait 5-7 years.
Third, a short sale costs you nothing.
When the home sells, your lender pays us a commission. Lenders are willing to pay all the costs associated with a short sale because they know that they get more money from a short sale than a foreclosure.
I'll show you how to short sale your property and never pay the bank another penny.
Thanks for reading this,
Thierry is a Real Estate Agent at RE/MAX Premier, and Host of Talk Radio's, 'Inside Real Estate'
Phone: (703) 322-0600.
Thierry is an advocate for Homeowners in Distress. Thierry has made it his personal mission to help as many people as possible avoid foreclosure and keep their home.
Thierry Roche specializes in loan modifications and short sales in Fairfax Virginia. Fairfax Loan Modification Help. Fairfax Short Sales. Fairfax Short Sale Realtor. Fairfax County Short Sale Realtor. Fairfax VA Short Sales. Fairfax Realtor.
Copyright 2011 Inside Real Estate, LLC. All Rights Reserved.