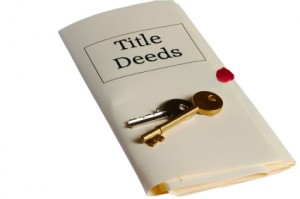 Fairfax VA – If you're facing a Fairfax VA foreclosure, beware of a Deed in Lieu of foreclosure. While some people believe that this tool helps you to avoid foreclosure, it actually speeds up the process.
Here are the most common myths about a Deed In Lieu.
Common Myth #1: If I do a Deed In Lieu in Fairfax, then I will not owe the lender any more money.  Just like with a No Contest Plea, a Deed in Lieu signals to a judge to stops analyzing the foreclosure case and to start the foreclosure auction.
Common Myth #2. A Deed In Lieu is better for my credit than a foreclosure. Not true, although many people believe it.  The truth is that even after you sign all the Deed In Lieu paperwork,  your Fairfax house is still going to be sold at a foreclosure auction.
Common Myth #3: A Deed In Lieu Is easy. In reality, the process is quite time-intensive and requires a lot of interaction with your lender.  According to some estimates, the process after a Deed in Lieu can take between 20 and 40 hours over the course of several months. During that time, you'll be submitting paperwork to your lender, waiting  for the lender to review the materials you submitted and then waiting for them to reach a decision.
Instead, you could be living for free while your lender forecloses? A Deed In Lieu offers almost zero benefit to you. So why go through the aggravation? That is why I believe that a short sale is better than a Deed In Lieu any day.
Thinking about a short sale? I can help you short sale your property and never pay the bank another penny.
Thanks for reading this,
Thierry is a Real Estate Agent at RE/MAX Premier, and Host of Talk Radio's, 'Inside Real Estate'
Phone: (703) 322-0600.
Thierry is an advocate for Homeowners in Distress. Thierry has made it his personal mission to help as many people as possible avoid foreclosure and keep their home.
Thierry Roche specializes in loan modifications and short sales in Fairfax Virginia. Fairfax Loan Modification Help. Fairfax Short Sales. Fairfax Short Sale Realtor. Fairfax County Short Sale Realtor. Fairfax VA Short Sales. Fairfax Realtor.
Copyright 2011 Inside Real Estate, LLC. All Rights Reserved.
This is not intended as legal, technical, or tax advice. Please speak with a licensed professional before making any decision. Information is deemed reliable but not guaranteed as of the date of writing. The views expressed here are Roche's personal views and do not reflect the views of RE/MAX Premier. This information is provided as a courtesy to our viewers to help them make informed decisions.