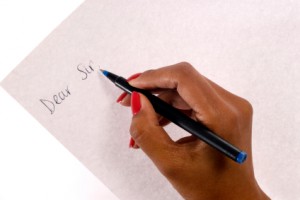 Fairfax VA – Fairfax VA home owners should exercise great care when writing a hardship letter.  After all, it's one of the most important components in a Fairfax VA short sale!
The purpose of a hardship letter is to explain why your lender should approve your short sale and let you walk away from the debt. In order to effectively write this letter, you need to spell out for your lender why you can no longer afford to keep the property.
Under no circumstance should any of the following sentences be included in your hardship letter:
I don't want the house anymore.
It doesn't make sense to keep the house because it isn't worth what I owe on the mortgage.
I can afford the house, but I think paying the mortgage is a bad investment.
Instead, try to work the following phrases into your hardship letter:
Our income went down and we can no longer afford the house.
"I lost my job and we are running out of money fast.
I would love to keep the house, but in our financial state forbids that.
Your hardship letter is your best shot at selling the short sale negotiator on approving the short sale and releasing you from the debt. Thus, choose your words wisely.
Here is a sample layout for a hardship letter.
Your name and the address of the property.
Your mortgage company info and your loan number.
State that you are having problems and would like to sell your property as a short sale.
State the reasons you are having financial problems.
Explain your situation in a little more detail.
Finalize the request.
Put your name down.
Sign and date above your name.
Here are some of the acceptable hardships you can put in your hardship letter.
Loss of job.
Loss of income.
Business Failure.
Unexpected medical bills.
Military Duty.
Death in the family.
Imprisonment.
Illness of breadwinner.
Forced relocation for work.
Keep in mind that the person who is reading your hardship letter is probably very busy.  Thus, consider making key phrases in your letter bold and keeping your letter to under two pages.
Thinking about a short sale? I can help you short sale your property and never pay the bank another penny.
Thanks for reading this,
Thierry is a Real Estate Agent at RE/MAX Premier, and Host of Talk Radio's, 'Inside Real Estate'
Phone: (703) 322-0600.
Thierry is an advocate for Homeowners in Distress. Thierry has made it his personal mission to help as many people as possible avoid foreclosure and keep their home.
Thierry Roche specializes in loan modifications and short sales in Fairfax Virginia. Fairfax Loan Modification Help. Fairfax Short Sales. Fairfax Short Sale Realtor. Fairfax County Short Sale Realtor. Fairfax VA Short Sales. Fairfax Realtor.
Copyright 2011 Inside Real Estate, LLC. All Rights Reserved.
This is not intended as legal, technical, or tax advice. Please speak with a licensed professional before making any decision. Information is deemed reliable but not guaranteed as of the date of writing. The views expressed here are Roche's personal views and do not reflect the views of RE/MAX Premier. This information is provided as a courtesy to our viewers to help them make informed decisions.