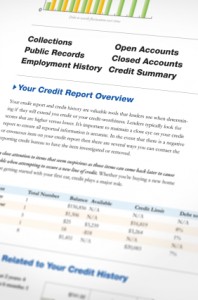 Fairfax VA – Did you know that you can dispute negative items on your credit?  When you do, you can sometimes get negative items to go away in as little as 30 to 60 days.  Although this isn't always the case, if you keep at it, you'll find that it does sometimes work, and that most items can be removed permanently.
Remember, you're innocent until proven guilty.  This means that the burden of proof rests with the credit bureaus.  It's their job to determine whether a negative item should stay on your report.  It's not uncommon for people to have inaccurate information on their reports.
Federal law says that you can dispute anything in your report. I suggest you send a detailed letter by certified mail if you want to dispute an item to the credit bureau. Even though it's possible to dispute items online, it's  better to have a paper trail.
In you letter, you should be very detailed about your dispute.  Put in your name and address and make sure to identify each item you are disputing. Give a detailed explanation for why you are disputing the item and request that the bureau remove it from your report.
File copies of the letter, envelope, and certified mail receipt.  You might even want to request a return receipts so that you have proof they received your letter and when.
The bureaus have 30 days after they receive a dispute to investigate it.In the event that they can't verify the negative item, they are required to remove it from your record. In order to verify the request, credit bureaus send letters to lenders.  But those lenders are so backed up, they might not have a chance to get to it before the 30 days is up.
Files get misplaced. Banks and lenders are are sold, merged, or go bankrupt all the time.  And during those transitions, a lot of things can get misplaced. The fact of the matter is, not every dispute is going to get a reply from a lender and that can work to your advantage.  Why? If the credit bureau doesn't get a response,  they have to remove the item.
Do not give too much information to the bureau.  Simply state why you are disputing an item and do nothing more.   If you give them lots of info, they may use that info to verify they item.
One more tip: After mailing a dispute letter, let the issue sit for 45-60 days before disputing it again. If you contact the credit bureau again in the 30 day window, they can automatically extend it for 30 days from that date, giving the bureau more time to verify the item.
Here are a some common reasons people use whn disputing a negative item:
1. Not my account.
2. Wrong Credit Limit.
3. Wrong Account Number.
4. Wrong date of last activity.
5. The Judge gave the account to my ex in the divorce. Be sure to send them a copy of the divorce decree.
6. I paid on time that month.
This strategy proves especially helpful for those Fairfax home owners who recently completed a short sale.  You can get rid of the debt, repair your credit, and get your life back on track in a reasonable amount of time.
Do you want to know how to complete a Fairfax short sale and never pay the bank another penny? I can help you do that. Call me at (703) 322-0600 for a free consultation. When you call, I will explain how the process works in detail and answer any questions you may have. Or, if you prefer, you can e-mail me at Thierry@ThierryRoche.com
Thinking about a loan modification? Our Fairfax Loan Modification Kit has the instructions you will need to get a loan modification approved with your lender.
Thanks for reading this,
Thierry is a Real Estate Agent at RE/MAX Premier, and Host of Talk Radio's, 'Inside Real Estate'
Phone: (703) 322-0600.
Thierry Roche specializes in loan modifications and short sales in Fairfax Virginia. Fairfax Loan Modification Help. Fairfax Short Sales. Fairfax Short Sale Realtor. Fairfax County Short Sale Realtor. Fairfax VA Short Sales. Fairfax Realtor.
Copyright 2011 Inside Real Estate, LLC.  All Rights Reserved.