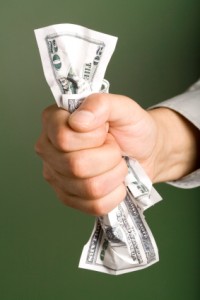 Fairfax VA – We have seen quite a few cases where a short sale that really should have been authorized was rejected. If your short sale realtor doesn't understand what they are doing, then you could possibly get stuck with a promissory note that you don't deserve.
Here is a good illustration of this taking place. A real estate agent had a short sale with one of the largest financial institutions in America. The short sale negotiator explained that they would not approve the short sale unless the seller came to closing with 50k cash. The sellers said no way.
Fortunately, the agent realized that Fannie Mae owned their loan. The good news for the home owner is that Fannie Mae does not request promissory notes or pursue deficiencies. (There are a couple exceptions, but they didn't apply here.) If those are Fannie Mae's rules, then why would the short sale negotiator call for the home owner to bring 50k to closing?
Turns out the negotiator was not adhering to Fannie Mae's Short Sale rules. The agent contacted Fannie Mae immediately. Within 72 hours a supervisor called from the short sale division. This time they were whistling a different tune.
The sale was authorized and the promissory note waived. The seller got to walk away owing nothing. Why do issues like these transpire? Because, in our thoughts and opinions, there is little oversight over the short sale procedure. Almost nothing happens when a short sale gets rejected and sells for less as a bank owned property. No, don't kid yourself, this takes place a lot.
These short sale negotiators produce an adversarial mindset. They almost certainly even get compensated bonuses based mostly on how much dollars they squeeze out of short sale sellers. This causes their ego to get in the way of what is best for the owner of the loan.
If you are thinking about short selling your Fairfax VA  home, be sure your realtor understands how to investigate who the owner of your loan is. That data will let them to negotiate from a position of power. And it will enable you to avoid a deficiency or promissory note.
Are you serious in selling your property as a Fairfax short sale? Call me at (703) 322-0600 for a free consultation. When you call, I will describe how the procedure works in detail and answer any questions you may have. Discover how other Fairfax area home sellers successfully completed a short sale and request a free consultation.
Considering a loan modification? Our Fairfax loan modification kit has the guidelines you will need to get a loan modification authorized with your lender.
Thanks for reading this, Thierry Roche.
Thierry is a Real Estate Agent at RE/MAX Premier, and Host of Talk Radio's, 'Inside Real Estate'
Phone: (703) 322-0600
Thierry Roche specializes in loan modifications and short sales in Fairfax Virginia. Fairfax Loan Modification Help. Fairfax Short Sales. Fairfax Short Sale Realtor. Fairfax County Short Sale Realtor. Fairfax VA Short Sales.
Copyright 2010 Inside Real Estate, LLC. All Rights Reserved.