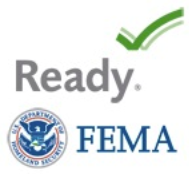 Unexpected things can happen at any time, that's why we call them emergencies. The Federal Emergency Management Agency or FEMA makes a standard recommendation to all Americans that you have enough basic supplies on hand to survive an emergency for at least three days.
The creation of a "Ready" kit needs to be assembled now. The idea is to have items to help you survive for up to 72 hours until local officials or relief workers can arrive. The possible disaster could be widespread and it could affect a lot of people in your area which would make it hard for relief workers to reach you immediately. Here is a suggestion of the items you need to include in your "Ready" kit.
Water, one gallon per person per day for at least three days
Food, at least a three-day supply of non-perishable food
Battery powered or hand-crank radio and a NOAA weather radio with tone alert and extra batteries for both
Flashlight plus extra batteries
First aid kit
Medications (prescription and basic)
Whistle to signal for help
Dust mask to help filter contaminated air and plastic sheeting and duct tape to shelter in place
Moist towelettes, garbage bags and plastic ties for personal sanitation
Wrench or pliers to turn off utilities
Manual can opener for food
Local maps
Cell phone with chargers, inverter or solar charger
Family and emergency contact information
Extra cash
Emergency blanket
Pet supplies if necessary
For your convenience you can get a printable version of this list and additional items to consider adding to an emergency "Ready" kit. The American Red Cross has a suggested list for first aid kits.
Want some Insider Information on Fairfax VA homes for sale? Get a FREE Market Snapshot Report of Your Northern Virginia Home's Value, or get a FREE Listingbook Account so you can Search All Northern Virginia Homes For Sale just like a Realtor. Put that data you need at the tips of your fingers!