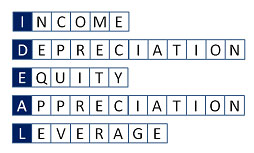 If you are looking for homes for sale in northern Virginia, consider purchasing one for an investment. Rental homes offer a high return on investment without the instability of stock market fluctuations, and are considered and IDEAL investment in this economy.
The "IDEAL" acronym above illustrates the major advantages of investing in rental properties:
Income from the monthly rent covers expenses and provides a profit.
Depreciation of the rental property is a non-cash tax deduction.
Equity continues to build monthly as each payment applies a growing amount to the principal.
Appreciation is achieved as the value of the property goes up over time.
Leverage can increase the return on investment by using borrowed funds to control a larger asset.
The combination of these qualities establishes rental real estate as a wise investment, in today's market and for years to come.  Increased rents, high rental demand, good values and low non-owner-occupied mortgage rates contribute to positive cash flows and very favorable rates of return. Contact me for more information about actual opportunities in our northern Virginia real estate.