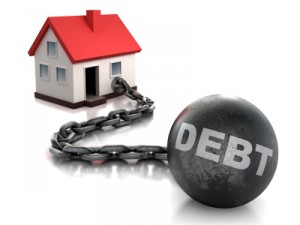 This week I told you about a couple whom I talked to about Fairfax short sale deficiencies.
They told me about how they received a first mortgage with EMC and then got an approval letter on a short sale.  None of the language in the latter said "satisfied in full" or words to that effect.
The only thing it said was  "conditions for EMC's acceptance of this discounted payoff are X." The couple wanted to know if EMC would sell the note to a collection company and then hound them for years.
In part one and two we detailed the types of loans where, in my opinion, you would not owe a deficiency on a short sale. There are a few types of loans that commonly ask for a promissory note, which I discuss below.
They are the types of loans that are owned by the lender from which you originally received them.  One example of this is a credit union loan, or a small community bank.  Another instance of this type of loan is one that was granted with Private Mortgage Insurance.
In my experience, these are the companies that will will be demanding and negotiate hard.  They usually will not approve a short sale without a promissory.  Still, this is not always the case.
Prove to them that you don't have any assets or extra monthly income.  By doing so, you'll show them that they are better off accepting the short sale. At that point, they will usually waive the promissory note and accept what they can get. As the saying goes, something is better than nothing, right?
If you are thinking about a short sale and are worried about the deficiency, then give me a call at (703) 322-6060. When you contact me, I will research the type of loan you have. and then give you my opinion on the deficiency.
The above is my opinion. It is not legal or accounting advice. Please contact a competent attorney or other professional because the circumstances vary, depending upon your situation.
Thanks for reading this,
Thierry is a Real Estate Agent at RE/MAX Premier, and Host of Talk Radio's, 'Inside Real Estate'
Phone: (703) 322-0600.
Thierry Roche specializes in loan modifications and short sales in Fairfax Virginia. Fairfax Loan Modification Help. Fairfax Short Sales. Fairfax Short Sale Realtor. Fairfax County Short Sale Realtor. Fairfax VA Short Sales. Fairfax Realtor.
Copyright 2011 Inside Real Estate, LLC. All Rights Reserved.