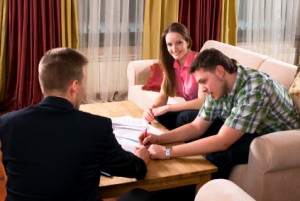 Negotiation Contingencies
Say you've written the contract for a Fairfax VA home for sale. The seller accepts your offer and you agree to their terms. Can you still renegotiate for a better deal afterwards?
Yes, there's still an opportunity for more negotiations even after the contract has been ratified and both buyer and seller have agreed on a price. You do this by adding clauses in the contract you offer upfront to allow for contingencies to resolve issues after the contract has been ratified. Some types of contingencies include those for home inspection, radon inspection, well and septic inspection, and pest inspection.
Any of these inspections may reveal defects in Fairfax VA homes for sale, so these contingency clauses will let you renegotiate parts of the contract to compensate for things that weren't covered before or you weren't prepared for. The seller still has a choice on whether or not to do this, but if they don't agree to fix the issues, they will still have to disclose those to the next interested buyer anyway since they can't sell a home with hidden defects. So usually, they'll agree to renegotiate.
Time on Market = Motivated Seller?
Many rookie homebuyers are under the assumption that the longer a property is listed in the market, the more motivated its seller becomes. Unfortunately, length of time on market is a terrible indicator for seller motivation. The property may not even have been on the market as long as you think!
For example, a home listed for $220,000 when it's actually only worth $200,000 will sit on the market for a long time since it's overpriced by 10%. Most buyers will only be interested in properties that are down to the price range they belong, so that home will usually get ignored.
After maybe six months, the seller then prices it down correctly and it's been a week in that price range. The market actually considers it in the market only for one week, and not six months, because it wasn't viable before due to being overpriced. Meaning, this seller is actually not motivated, or else they'd have priced it properly in the beginning in order to sell much quicker.
Also beware of MLS listings that put the total number of days on market as the cumulative total of the last 2 or 3 years instead of just for the current listing period. For example, a house might have been in the market for 220 days 2 years ago, and then relisted again 30 days ago. The MLS might then say it's on the market for 250 days already, which is a false indicator for how long it's been on the market this listing period, so don't rely solely on this.
~
Thierry is a Real Estate Agent at RE/MAX Premier, and Host of Talk Radio's, "Inside Real Estate"
Thierry & his team Guarantee a $25,000 minimum savings for Northern VA Homebuyers by applying his unique insider techniques & strategies that he discovered throughout 8 years of exclusive Radio Interviews & Insider Access to wealthy Real Estate Insiders, Investors & Top Industry experts.
Phone: (703) 222-6714.
Copyright 2010 Inside Real Estate, LLC. All Rights Reserved.