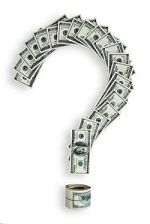 When you own your home you are responsible for paying the mortgage. But what about investment property? Why not make your tenant pay your mortgage? A great benefit of mortgaged rental property is the build-up of equity. As you, the investor, collect rent and then pay expenses from that rent, your mortgage principal is paid down over time thereby increasing the property's equity. Through the years, your tenant will pay for your investment property to your benefit.
We all know that through normal amortization of a mortgage loan, equity is built as the principal is paid down. You can accelerate this by making additional principal payments monthly in addition to your normal payment. With interest rates on certificates of deposits and savings accounts lower than your mortgage rate, this could be considered a good use of your cash flow.
The hypothetical example I provided below is a rental bought for $125,000 with 80 percent loan-to-value mortgage at 4.5 percent for 30 years compared to a 3.5 percent for 15 years. Assume estimated purchasing costs of $3,000, and we will estimate monthly rent at $1,250 and operating expenses at $4,800.

You will see that both of the properties present a positive cash flow before taxes. Your cash on cash return is your revenue minus expenses which includes debt service ÷ your initial investment to purchase the property. Although the cash flow on the 15 year mortgage will be smaller, your build-up of equity is much higher.
If your goal as an investor is to get your investment property paid off quicker and provide a higher cash flow at a future date, getting a short-term mortgage with a lower interest rate is right for you. In simple terms, an investment is putting away money today so you will have it in the future. By investing in real estate, you might sacrifice your cash flow now, but the opportunity to get a higher cash flow in the future is expected. Use your earning years to assist with quicker pay down on your debt, thus providing a bonus when you retire and sell.
Contact me if you'd like to explore Fairfax homes for sale that can be converted to rental property opportunities.