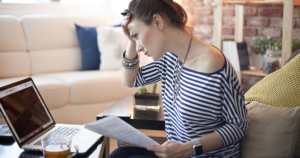 When we shop for home loans, we often gravitate toward the ones the require less down payment or are more lenient with credit scores. Often that can turn out to be an FHA loan. Then you get stuck with mortgage insurance premiums. On a $265,000 FHA mortgage that can add $200 extra to your monthly payment. Can this extra payment be eliminated?
First, we need to understand that mortgage insurance is a policy you pay that protects lenders in case you default on your loan and it is required on all FHA loans. The Up-Front MIP is currently 1.75% of the base loan amount and paid at the time of closing.  Annual MIP for loans with greater than 95% loan-to-value is .85% per year.
Good news! The MIP can be canceled for loans with FHA case numbers assigned before June 3, 2013, when the loan is paid down to 78 percent of the original loan amount. Contact your current servicer to see if you qualify.
Sad news! MIP is required for the life of your loan if your loan has an FHA case number and was greater than 90 percent and assigned on or before June 3, 2013.
So, you may not be eligible to cancel your MIP because you got the loan after June 3, 2013, had less than 10 percent down payment and/or got a 30-year loan. But if you have at least 20 percent equity in your home, you can refinance with another lender and get an 80 percent conventional loan which, in most cases, does not require mortgage insurance.
Now, if you are paying on a 30-year mortgage it will take about 11 years to reduce your original loan amount to the 78 to 80 percent requirement. However, if the real estate market in your area is booming, you will gain appreciation on your home. As the value of your home increases and your unpaid balance decreases, equity increases.
If you believe that you have enough equity in your home to eliminate needing PMI, you can investigate refinancing using a conventional loan product. There will be expenses for refinancing such as loan origination, points to pay for lower interest rate, etc. But analyzing your situation with a mortgage professional can help you determine if it's right for you.
Call me at (703) 303-4010 for a recommendation of a trusted mortgage professional.
Want some Insider Information on Fairfax VA homes for sale? Get a FREE Market Snapshot Report of Your Northern Virginia Home's Value, or  Search All Northern Virginia Homes For Sale. Put that data you need at the tips of your fingers!