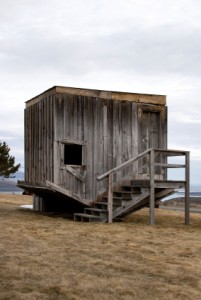 Are Upside Down Mortgages a Contemporary Debtor's Prison? We all know Debtor's Prison didn't work. In fact, Debtor's Prison was a solid drag on the economy. Here is the cause.
An individual would go into debt. If he could not repay the debt, his lender could have him sent to jail. Here is the problem with that logic. Someone who has the ability to go to work every day can't afford to pay you back. Will they be able to pay you back after they get thrown in jail?
Keep in mind, most people in jail do not have a job! Here is another way that Debtor's Prison drags on an economy. It hinders people from taking risks. Who is going to establish a new business? I wouldn't start a new business if for any reason it failed, then I would be carted off to jail! Who would pay for a new Fairfax VA home, unless they were paying cash?
"You can't pay off your upside down mortgage. It's off to debtor's prison with you", the loaner says. Everyone, including the creditors, got hurt by the recent housing bust. But, most banks got a bailout. I know of a nearby financial institution that got $6 million in bailout money.
That's a lot more bailout than any of their clients acquired. Where is the little guy's bailout? This is why, in my opinion, you shouldn't be ashamed that you want no deficit following a Fairfax short sale. It is also the reason I work hard to make sure that our Fairfax VA short sale clients don't end up with deficiency.
I won't judge you if you are upside down on your house and want to short sale. I have worked with so many hard-working Fairfax VA homeowners who are pressured to sell because they can't pay for their high house mortgage. Their lender was so willing to provide them the mortgage. Now that they are losing their homes to Fairfax foreclosures, the collector doesn't care. They simply "sic" the debt collectors on them.
Are you interested in selling your property as a Fairfax short sale? Call me at (703) 322-0600 for a free consultation. When you contact me, I will describe how the process works in depth and answer any questions you may have. Find out how other sellers with Fairfax VA homes for sale effectively completed a short sale and ask for a free consultation.
Thinking about a loan modification? Our Fairfax loan modification kit has the instructions you will need to get a loan modification approved with your creditor.
Thanks for reading this, Thierry Roche
Thierry is a Real Estate Agent at RE/MAX Premier, and Host of Talk Radio's, 'Inside Real Estate'
Phone: (703) 322-0600.
Thierry Roche specializes in loan modifications and short sales in Fairfax Virginia. Fairfax Loan Modification Help. Fairfax Short Sales. Fairfax Short Sale Realtor. Fairfax CountyShort Sale Realtor. Fairfax VA Short Sales.
Copyright 2010 Inside Real Estate, LLC. All Rights Reserved.