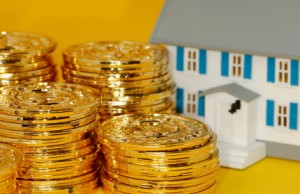 Ever wonder how the majority of real estate investors make their millions? It's actually no secret: just Buy and Never Sell. That's it. This opportunity will allow you to count yourself among the many millionaires in the country who have built their wealth through real estate. So how does buying Fairfax VA homes for sale earn you money if you don't sell it?
You can have Fairfax VA homes paid off by a tenant. Renting the property will get you a tenant who can actually pay you extra money over the amount of the monthly mortgage payments, with minimal investment.
Then, using the technique of principal pre-payment that was discussed in an earlier post, you can save off even more. Rents paid by tenants can cover more than just the monthly mortgage payments; they can also take care of all expenses and maintenance fees. All in all, with mortgage principal pre-payment, the tenant can pay the Fairfax VA home off for you in about 10 to 15 years.
You'll get a house you didn't pay for, since it was the tenant who paid it off for you. You'll also get tax breaks being a landlord that you won't receive as a homeowner. Then, after the mortgage is done, you'll get pure monthly cash flow from the continuous rent.
Millionaires have been made this way, and a lot of real estate investors follow in their footsteps. The main difference with investors and you as a homeowner is that they have to put up much larger down payments.
However, this situation still lets you buy a house with little or no money down, then have someone else pay it for you. Then you continue getting tax breaks and cash flow coming in.
The only downside is you have to maintain the living standards of the home. You won't have to worry about this if you write your leases correctly with this in mind, while also having the required home warranties in place along with enough insurance. Then you can say goodbye to major expenses and hello to cash flow.
Now this is part of another topic which will be discussed more in my free and live online webinar that you can sign up for, free of charge. Learn more about this tried and tested way to get rich in America!
~
Thierry is a Real Estate Agent at RE/MAX Premier, and Host of Talk Radio's, "Inside Real Estate"
Thierry & his team Guarantee a $25,000 minimum savings for Northern VA Homebuyersby applying his unique insider techniques & strategies that he discovered throughout 8 years of exclusive Radio Interviews & Insider Access to wealthy Real Estate Insiders, Investors & Top Industry experts.
Phone: (703) 222-6714.
Copyright 2010 Inside Real Estate, LLC. All Rights Reserved.