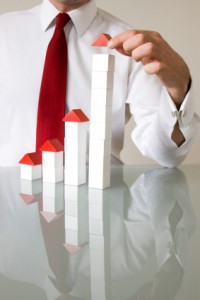 Now that you're aware of how to make money from Fairfax real estate without even selling, you can be a millionaire within 15 to 20 years with even just one house. Now imagine if you can do it with multiple houses.
Quite often, people can get Fairfax VA homes paid down to a point where an extra equity develops. They then take some of this equity without selling the house and use it to pay down and buy another house. With this second house, since the tenant would be paying the mortgage for them, they'll take off some equity again after a few years and use it for a third house, and so on.
This strategy is called equity reutilization and most multimillionaires have built their wealth on it. Thousands of real estate investors get on this every year. By owning just three or four houses, people can become multimillionaires in 15 to 20 years.
You can compare this with the board game Monopoly. You can get rich off one property but if you own multiple properties, you'll soon become very, very rich.
Even with just one Fairfax VA home, you can become a millionaire. A $400,000 house paid off for you with the extra money reinvested properly at a compounded interest of maybe only 10% can result in heavy pockets for you. With the multimillionaire strategy of equity reutilization, imagine how much repeating this process with multiple houses can earn you.
This serious investment strategy is not a get-rich-quick scheme if that's what you're looking for. However, this conservative wealth-building method is one of the most proven ways of making millionaires than any other real estate strategies.
Learn more Insider strategies that can save you and make you lots of money on your next Fairfax VA home purchase! Sign up for my free webinar and hurry because space is limited! Specific information about the N. VA market and more details about these homebuyer saving strategies exclusive available to seminar attendees await!
~
Thierry is a Real Estate Agent at RE/MAX Premier, and Host of Talk Radio's, "Inside Real Estate"
Thierry & his team Guarantee a $25,000 minimum savings for Northern VA Homebuyersby applying his unique insider techniques & strategies that he discovered throughout 8 years of exclusive Radio Interviews & Insider Access to wealthy Real Estate Insiders, Investors & Top Industry experts.
Phone: (703) 222-6714.
Copyright 2010 Inside Real Estate, LLC. All Rights Reserved.